..a brief history of DJ Bulge..
Since buying his first set of 1200s back in '97, DJ Bulge has been amassing an impressive collection of funk fuelled tunes. A genre hopper and connoisseur of the breakdown, he'll drop anything as long as it's got funk in the trunk. DJ Bulge will blow your funk valve with an impressive resume including rocking faces and sneakers completely off at the BIG DAY OUT and support for old school legends De La Soul.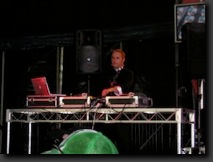 As an early adopter of Serato Scratchlive DJ Bulge is a self confessed digital junkie and futurist. Always willing to push the boundaries of what's what in DJing and DJ gear. Back in 2005 when he started using a laptop and records people freaked. Now you'll struggle to find a DJ that doesn't have a MacBook in the booth with them. What's next? Only robots from the future may know. Take a look at
www.opendj.info
to see some of the stuff he's working on.